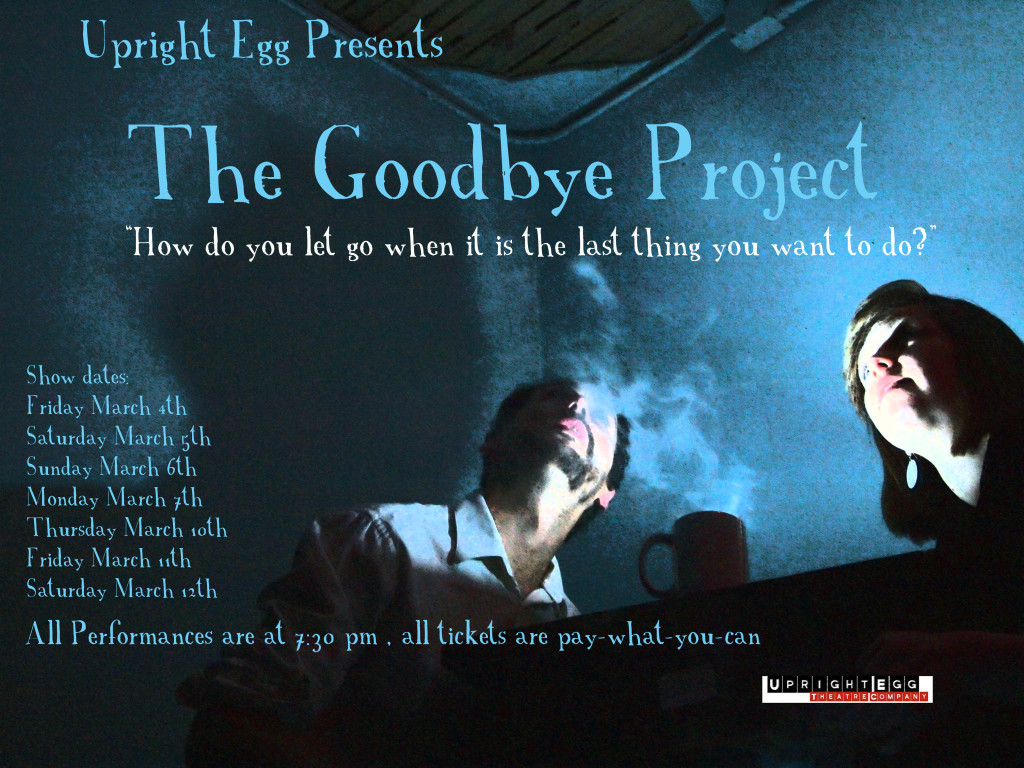 The Goodbye Project is an exploration of letting go and moving on. As one person contemplates leaving the comfort and safety of the 9-5 grind and seek new opportunities in a new city, another is called home to reunite with a family left behind long ago. The two are observed on their separate journeys by a trio of mysterious beings.
The project continues in Upright Egg's over-a-decade reputation of presenting devised work- in industrial basements across the Twin Cities, Shakespeare in city parks, in homemade cave tours (and caves) in artist loft spaces, and playfully tackling topics mundane and profound. The company also is continuing their tradition of theatre for all with pay-what-you-can tickets for every performance.
Rehearsal Photos by Cast Member Joey Ripley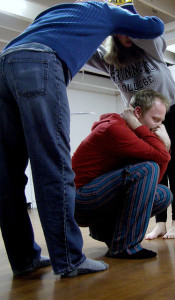 Set Designer Mandi Johnson puts finishing touches on furniture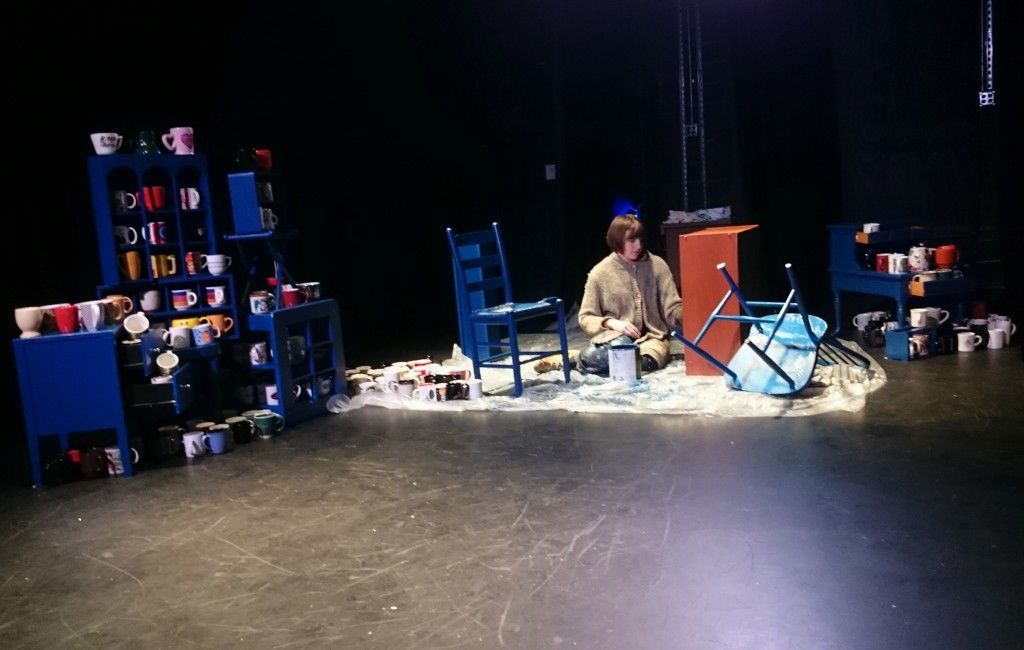 CAST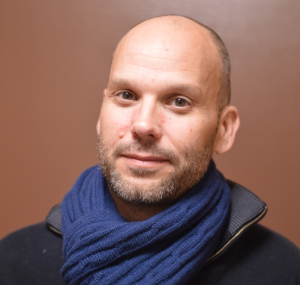 Eric Balcerzak
The One Who Acts
This is Eric's first show with Upright Egg, and quite frankly, his first show in a long time. Way too long! But now that he is back on stage you can also see him in the upcoming "Everything's Free" a new work by local playwright Sam Graber and being produced Mission Theatre Company.  The show runs April 21st – May 7th at Savage Umbrella' SPACE.  He will also be producing a show with his lovely wife Kara for the 2016 Minnesota Fringe Festival happening August 4th – 14th.  Rumor has that Eric is also going to start taking the stage at some of the local storytelling venues, so look out! When Eric isn't acting he can often be found making art out of things that other people have discarded, trying to convince neighbors and friends to start a rock band, or just taking a moment to enjoy the great outdoors.
Timothy Daly
*Upright Egg Company Member
Matthew
Timothy has been involved in numerous Upright Egg shows, including: The Afterlife Project, The Love Project, Present Project: The Reindeer Monologues, Present Project: A Dastardly Tale of Skullduggery and Shananigans Choose-Your-Own-Adventure, Uranus, ReCollect: A Fairytale About Memory, The Weight of the World and A Midsummer Night's Dream. Other companies Timothy has worked for include; nimbus, Green T Productions, Hardcover Theater, Hillcrest Theatre, Illusion Theatre, Actors Theatre of Minnesota, Cromulent Shakespeare and Classical Actors Ensemble and will next be performing as Puck in this summer's CAE show: A Midsummer Night's Dream.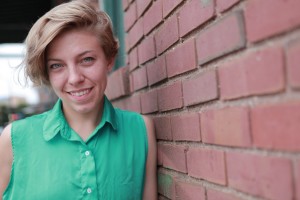 Shannon Foy
The One Who Feels
Shannon is thrilled to be in her first Upright Egg production! Previous Twin Cities theatre credits include Theatre Pro Rata and Silver Slipper Productions. Shannon would like to thank her wonderful directors and fellow cast members for all their hard work, and Sacramento Steve wherever he may be.
Gail Kowsky
Lynne
This is Gail's first show with Upright Egg, first show in the Twin Cities, and her stage debut! Gail is excited to have this show to list on future bios. After saying goodbye to The Goodbye Project, Gail will be back to teaching art with her Middle School students and working on her drawings.
Bethany McHugh
Heather
This is Bethany's first show with Upright Egg. Recent credits include A Sacred Passage with Full Circle Theater, dir. Rick Shiomi; Eurydice with Youth Performance Company; Three Sisters, After Miss Julie, and Machinal at Carleton College. Education: B.A., English and Theater Arts, Carleton College; Eugene O'Neill Theater Center's National Theater Institute Semester. You can see Bethany on stage again soon in Classical Actors Ensemble's A Midsummer Night's Dream.
Joey Ripley
The One Who Knows
This is Joey's first show with Upright Egg and his Twin Cities theatre debut, though he's been in theatre for several years. Although born and raised in Minnesota, he caught the passionate acting bug while in the Pacific Northwest. Most recently, he was seen as William Barfée in 25th Annual Putnam County Spelling Bee. Other roles include Aunt Sponge in James and the Giant Peach and Hot Blades Harry in Urinetown. He has studied with Broadway actresses Carol Swarbrick and Elinore O'Connell at a Musical Theatre Intensive from 2012-2015. He is also so grateful to have found such an adventurous, creatively adroit and talented company to work with.
Tom S. Tea
Lex
This is Tom's first show with Upright Egg, and they're very excited to share this work with such a kind and appreciative audience. Tom hopes to have the opportunity to perform more often, but currently can be seen at the Uptown Theater every month as part of Transvestite Soup, the Twin Cities' only Rocky Horror shadowcast
Rob Ward
Terry
This is Rob's first show with Upright Egg. Rob is an actor, mover, and improviser based out of The Twin Cities. Previous productions include History of the Devil with Shadow Horse Theater, Flanagan's Wake with Actors Theater MN, Mendacity (which he also co-wrote) at the MN Fringe Festival, Dance With The Devil with Erin Sheppard Presents, and the film ROB SUPER with Red Ink Productions. Rob is also a member of the improv groups Unscripted Theatre and Reservoir Frogs. He also performs with the commedia troupe Masq. Rob is originally from the Chicagoland area.
DESIGNERS
Julia Carlis
Lighting Design
Julia previously designed lights for Upright Egg's productions of Venus and Songbird. Julia is a freelance lighting and scenic designer and an Artistic Associate at Theatre Pro Rata. You may have seen her work recently in Pro Rata's The Beauty Queen of Leenane or Theatre Unbound's Title IX. Look for this upcoming project in the near future: Theatre Pro Rata's The Knight of the Burning Pestle (June). In the rest of her life, she wears many hats including librarian, knitter, pie baker and bubbly water addict.
Mandi Johnson
Set Design
The Goodbye Project is Mandi's second time working with Upright Egg, her first was for Songbird  as Costume Designer, and Co-scenic Designer.  Mandi typically works as a costumer designer, is a company member with Theatre Pro Rata, and has designed costumes for Sandbox Theatre, Live Action Set, Four Humors Theater, 7th House Theater, among others. Upcoming she will be designing costumes for Four Humors Theater's production of Don Quixote, Theatre Pro Rata's production of Knight of the Burning Pestle, and Sandbox Theatre's 600 Years.
Samantha Kuhn Stanaert
Costume Design
This is Samantha's first show with Upright Egg. Samantha has her MFA in costume design from The Ohio State University and her BA from Hamline University. Previous designs include: The Beauty Queen of Leenane and 1984 with Theatre Pro Rata, Happy Days the Musical with Minneapolis Musical Theatre, Silkworms with Theatre Unbound and eight productions with Lyric Arts in Anoka, where she is a resident designer. Samantha is an adjunct instructor of fashion construction at the Art Institutes International Minnesota and a freelance costume designer and technician.
Joshua Stallings
Sound Design
This is Joshua's first show with Upright Egg. He is the Master Electrician and Audio Engineer with the History Theatre in St. Paul. Joshua is also a Freelance Composer, Sound Designer, and Lighting Designer working in theatre, music, and live event production.
Brian Watson-Jones
*Upright Egg Company Member
Playwright
Brian has been a company member with Upright Egg for almost 8 years, and who knows how many shows.  He's pleased and proud to be back for this one.  He's also a company member with Tedious Brief Productions, and co-wrote all their full shows, including Bard Fiction, which has been performed across the USA and Canada.  Most recently, he was a mysterious voice on the phone in Crime & Punishment with Live Action Set, and a violent nephew in A Klingon Christmas Carol at the Mounds Theater.  Coming up, he'll be a color commentator for Human Combat Chess with Six Elements Theater and co-writing once more with Tedious Brief for the 2016 Minnesota Fringe Festival.  When not writing or performing, he's either putting pills in bottles, watching Netflix, or reading old pulp science fiction.
Mark Benzel
*Upright Egg Company Member
Collaborator
Mark has been an Upright Egg company member since 2007 and has been involved in nearly all UE projects in some capacity. Mark is a theatre maker and teacher who has worked with companies such as Live Action Set (The Seven Shot Symphony (Ivey Award), The Big Low Down, and The Happy Show), Sandbox Theatre (The Little Pilot, Unspeakable Things, and The Horse, The Bird, The Monkey and The Dancer), Red Eye (Will You Still Love Me, Tomorrow and Dreamless Land), Theatre Forever (The Big Show),  The Coldharts (Edgar Allan and The Unrepentant Necrophile), Walking Shadow (Mojo), Theatre Pro Rata (T Bone N Weasel), and Dolan//Heeringa (My Life is All but Over).  He has trained with Pig Iron Theatre, Philipe Gaulier, and internationally with Pierre Byland. Mark can next be seen in Live Action Set's The Sparrow in May at the Southern Theater. He thanks friends, family, and fellow collaborators for all the inspiration and support they give him with every leap. Special thanks to TP, M, and PP. Mark deeply thanks the Egg and Eggers past and present for introducing him to making theatre and making friends.
Brian O'Neal
*Upright Egg Company Member
Director
Brian's first Upright Egg Show was The Afterlife Project in the 2006 MN Fringe. Since then he has written, directed, performed, stage managed, movement coached, lighting designed, and whatever else you can think of for a dozen other Eggs. He has performed with various other companies in the Twin Cities including nimbus, Theatre Pro Rata, Youth Performance Company, The Winding Sheet Outfit, and others. You can see him on stage next month in a new work at Savage Umbrella's SPACE developed by Katie Kaufmann called Keeper of the Light – a play about the life of Ida Lewis, the first female Lighthouse keeper in the U.S.   
SPECIAL THANKS
Upright Egg is indebted to the kind and generous assistance of the following people – we couldn't have done it without you!

Kristin Foster, Larissa Shea, Peter Heeringa, Kristina Fjellman, Jacob Steinbauer, Jessica Clark, Peggy Sannerud, Scott Pakudaitis, Matt Riggs, Danielle Siver, James Allen Graham, The Phoenix Theatre, Purity Studio, Sandbox Theatre, everyone who donated a mug (or mugs), all our past company members and collaborators – THANK YOU!